Champion for families experiencing homelessness named 2022 First Citizen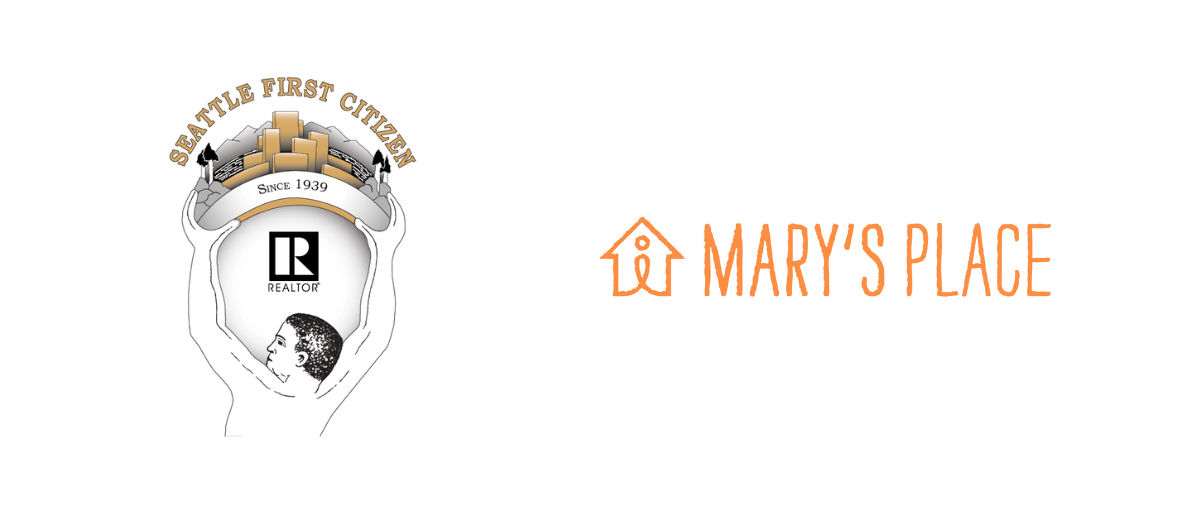 Few can deny homelessness is a worsening problem, but one organization serving Seattle and King County is making remarkable progress in achieving its goal of "No Child Sleeps Outside."
From modest beginnings in 1999 as a drop-in day center for women experiencing homelessness, Mary's Place has grown to five 24/7 family center shelters across King County that provide critical services for women and families. For its thoughtful and innovative approach to providing safe, inclusive shelter and housing solutions for families, Mary's Place has been selected 2022 Seattle-King County First Citizen. Marty Hartman, executive director since 1999, will accept the award on behalf of the nonprofit organization.
In announcing the 84th recipient of the prestigious First Citizen award, Rachel Mehmedagic (Adler), president of Seattle King County REALTORS® (SKCR), said an unwavering commitment to eliminating barriers to housing by Mary's Place, its exemplary record for continuous improvement of services, and its inspiring engagement of staff and stakeholders, deserve recognition. "We look forward to commemorating the many ways they address this critical community concern."
A civic celebration of Mary's Place, presented by SKCR in partnership with John L. Scott Real Estate and Windermere Real Estate, is being planned for summer or early fall. Once the date and venue are finalized, guests will be able to make reservations online at firstcitizenevent.org.
"Congratulations to Mary's Place for this well-deserved honor — an important recognition of the innovative work they do to address the crisis of family homelessness in our community," stated Seattle Mayor Bruce Harrell. "Mary's Place has offered critical shelter, care and services for over two decades, helping women and families in our region move quickly into safe, stable homes. Unsheltered families are too often unseen in our community — our commitment is not just to recognize them, but to support bringing these parents and their kids inside and help them return to housing. We're grateful for the partnership and leadership of Mary's Place in these important efforts."
This year marks only the third time SKCR has presented the First Citizen Award to an organization rather than to an individual, couple or family. Children's Orthopedic Hospital (now Seattle Children's) was honored in 1944; in 2012, Rotary International District 5030 received the award.
"On behalf of everyone at Windermere, I want to congratulate Marty Hartman and her team at Mary's Place for being selected as this year's Seattle-King County First Citizen," said Christine Wood, executive director of the real estate company's foundation. "The tireless work they do to help families on their journey out of homelessness is critical to the health of our community and the Windermere Foundation is proud to partner with them on these efforts."
Some noteworthy numbers illustrate the impact of their efforts. During 2021, Mary's Place provided 141,412 overnight stays for 586 families and 1,204 children at their five locations. Their housing and mobile outreach teams helped 549 families find permanent, stable homes.
Broker Trish Coy, chair of the First Citizen Committee, said the Selection Committee was very impressed not only by the number of families the organization serves, but also by its flexibility during the coronavirus pandemic, and its efforts to address systemic racism.
"Mary's Place pivoted to address the challenges of COVID-19," Coy said, citing examples from its 2020 Gratitude report. "It's leadership, staff and volunteers turned to community volunteers and went virtual to adapt housing, youth, and employment services, to name just a few of the ways they supported families.
Coy, whose philanthropic work includes support of several human services nonprofits, also commended Mary's Place for prioritizing families during the pandemic. The team at Mary's Place noted emerging "red flags" and began raising funds to help support families facing evictions, foreclosures, and/or needing rental assistance as moratoriums and COVID-related rental assistance stipends end.
First Citizen event vice-chair Lara Weasea said the Selection Committee also reported being impressed by the initiatives this year's award recipient has undertaken in the areas of diversity, equity, and inclusion. "Clearly, they are responsive to their guests, who are predominantly from communities of color," Weasea remarked. "Racial equity trainings for staff and Board, partnerships with BIPOC-led organizations to provide culturally relevant services, and recognition of inequities in health care are among ways Mary's Place is trying to remove barriers."
"Shedding light on the crisis of children experiencing homelessness became our focus when we found out there were children in homeless encampments in 2015," said Jim and Fawn Spady of Dick's Drive-in Restaurants. "After reaching out to Mary's Place, we began our journey to tackle this difficult issue. Together we launched the No Child Sleeps Outside campaign to raise awareness and funds. It now is a major annual campaign for so many individuals and corporations. We join in congratulating Mary's Place on this well-deserved honor for their innovative, efficient, and effective work."
SKCR representatives were also impressed by the data-driven decision process Mary's Place uses to implement ideas and programs, along with its willingness to share information with policymakers, other service providers, financial backers, and others.
Executive director Marty Hartman, who is widely respected as an engaging advocate and coalition builder, is quick to credit others for the ways Mary's Place initiates and implements wraparound programs and services for families who are on the journey out of homelessness.
"I want to be sure we're getting the most current information from nationwide resources on best practices, that we have excellent staff that are implementing those ideas and programs, and most importantly, that we're gathering and using good data to drive decisions and share those results with policymakers, other homeless service providers, and our community," Hartman remarked in an interview with NEDDIE, a social impact platform.
Mary's Place and Hartman are the recipients of other honors for their contributions to the community well-being.
Thrive Global, a behavior change technology company, named Hartman as one of "nine women leading the charge for diversity and inclusion in the U.S." Noting that her childhood entailed frequent moves (16 times before she was in the 5th grade), and her mother's recurrent urging to meet others and give back no matter where they lived, Thrive Global recognized Hartman for transitioning "into a natural giver and community builder."
In 2019, Mary's Place was one of 32 organizations across the U.S. to receive a monetary award from the Bezos Day 1 Families Fund for doing "compassionate, needle-moving work to provide shelter and hunger support to address the immediate needs of young families." The previous year (2018), Hartman was a Puget Sound Business Journal Woman of Influence honoree. The Seattle Storm presented her with a Woman of Inspiration honor in 2016.
About Mary's Place
Mary's Place believes that no one's child should sleep outside. They provide safe and inclusive shelter and resources for women, children, and families on their journey out of homelessness. Today, Mary's Place operates five crisis response family shelters providing refuge and community for around 700 family members. The organization focuses on an innovative strategy of combining prevention, mobile outreach, emergency shelter, and resources for transition back into housing to end family homelessness.
About the First Citizen Award
The Seattle-King County First Citizen Award salutes "giving back" whether by "time, treasure or talent" and civic engagement that enhances the region's quality of life. Past recipients hail from both the public and private sectors, ranging from humanitarian groups, corporations, charitable, health and educational institutions, to various arts, environmental, and civic organizations.
Since its inception in 1939, the First Citizen Award, believed to be this region's oldest such recognition, continues to celebrate community leadership, volunteerism, and public service.
The civic banquet to honor the annual recipients is a not-for-profit celebration of civic engagement presented by Seattle King County REALTORS® and partners from the real estate community.
About Seattle King County REALTORS®
The Seattle King County Realtors® is a nonprofit professional trade association whose goals include promoting ethical business practices and supporting policies that preserve and expand real property rights and housing affordability. Based in Bellevue, SKCR has more than 7,700 members and is a local board of the National Association of Realtors®. The term Realtor® is a registered collective membership mark that identifies a real estate professional who is a member of the National Association of Realtors® and subscribes to its strict Code of Ethics.