"Under all is the land. Upon its wise utilization and widely allocated ownership depend the survival and growth of free institutions and of our civilization..."
These are the first lines of the REALTOR® Code of Ethics, the guiding document of the National Association of REALTORS® for professional standards. The Code outlines a REALTOR®'s duties to clients, other REALTORS®, and the public.
Seattle King County REALTORS® takes the Code very seriously. As one of the founding chapters of the National Association of REALTORS®, we developed the following pledge based on the Code of Ethics, which we traditionally say at Board Meetings and other committee meetings.
I AM A REALTOR®
I PLEDGE MYSELF...
To be honorable and to abide by the Golden Rule;
To serve well my community, and through it, my country;
To abide by the REALTOR® Code of Ethics and to conform my conduct to its aspirational ideals;
To act honestly in all real estate dealings;
To protect the individual right of real estate ownership and to widen the opportunity to enjoy it;
To represent my clients by building my knowledge and competence.
Because REALTORS® take the Code of Ethics so seriously, the Association has a prescribed arbitration process for reporting and mediating ethics violations.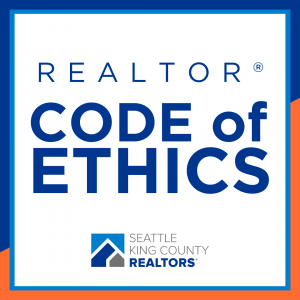 Renewing REALTORS® are required to complete at least 2.5 hours of COE Training during each 3-year cycle.
Find more information about training options and classes at SKCR on our REALTOR® Requirements page.