For over 50 years, the Association of REALTORS® has been one of the strongest and most successful advocacy organizations in the nation. Our success comes from the broad-based constituency we represent and from individual REALTORS® involved in their communities: REALTORS® like you!
REALTORS® recognize that as an industry, we must engage in politics to ensure a stable future. Members of the Seattle King County REALTORS® work diligently to ensure our industry has a voice when policy decisions are being made. Through candidate interviews conducted by dedicated REALTOR® volunteers, your association supports candidates who support REALTOR® issues.
Candidates endorsed by Seattle King County REALTORS® have earned the association's endorsement based on their voting record and/or responses to our candidate interview questionnaire. A panel of REALTOR® volunteers conduct all interviews and forward recommendations for endorsement to the Governmental Affairs Committee. Endorsements then need to be approved by a two-thirds vote of the committee.
If you have questions about this process or would like to seek endorsement, contact Taylor Shanaman, Director of Governmental Affairs, by email or phone at 425-974-1013.
2023 Interview Volunteers
Michele Hunt • Gina Madeya
Garrett Nelson • Eddie Chang
Dinato Luz • Barb Korducki
Patti Hill • Brenda Nunes
Jennifer Gilbert-Smith • David Crowell
Sol Villarreal • Emily Shepodd
Vincent Ha • Tara Cummins
Scott Dickinson • Deidre Hicks

Beverly Read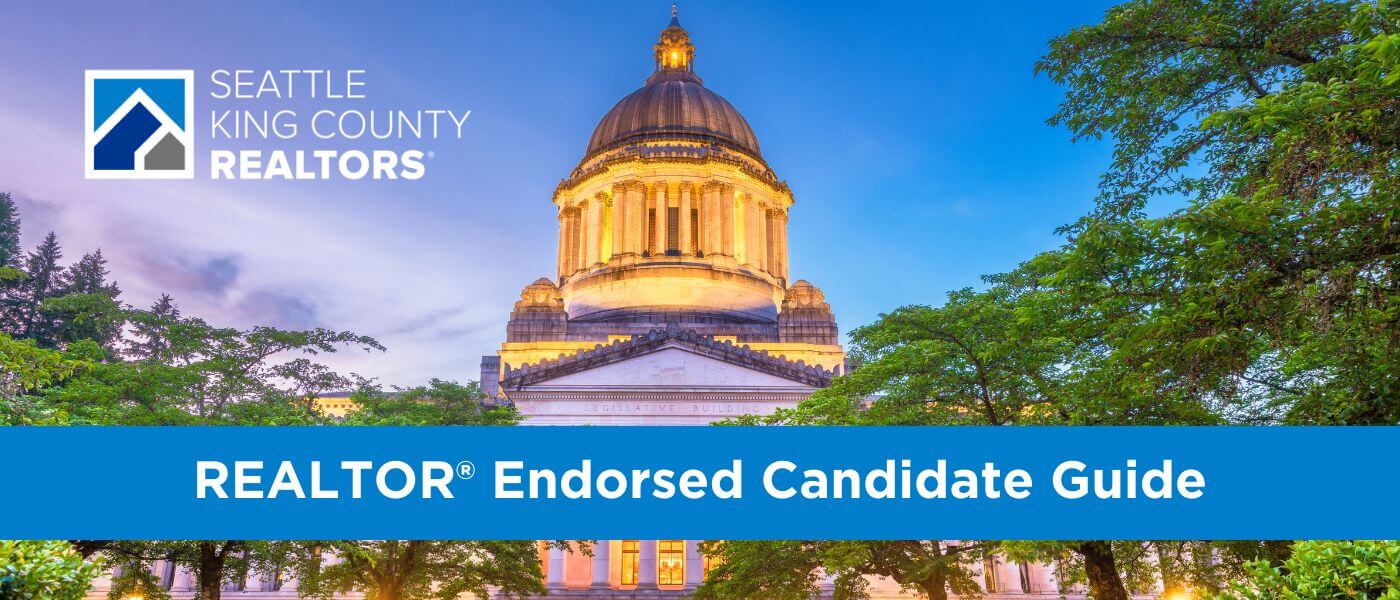 For information and voting regulations, address changes, and more, click here:
Candidates are scored up to 100 by the interview panel based on their responses to our candidate questionnaire. Following the interview, the scores provided by the panelists are averaged to a score out of 100. A candidate must attain a score of above 80 to be considered for endorsement. Ratings vary by election and composition of interviews panel year over year.
100–80 score: Eligible for endorsement
No score: Endorsed without interview, based on voting record or past support
(*): Denotes incumbent
General Election, November 7, 2023