Trailblazer who "always makes time" to support others is named 2023 Seattle King County First Citizen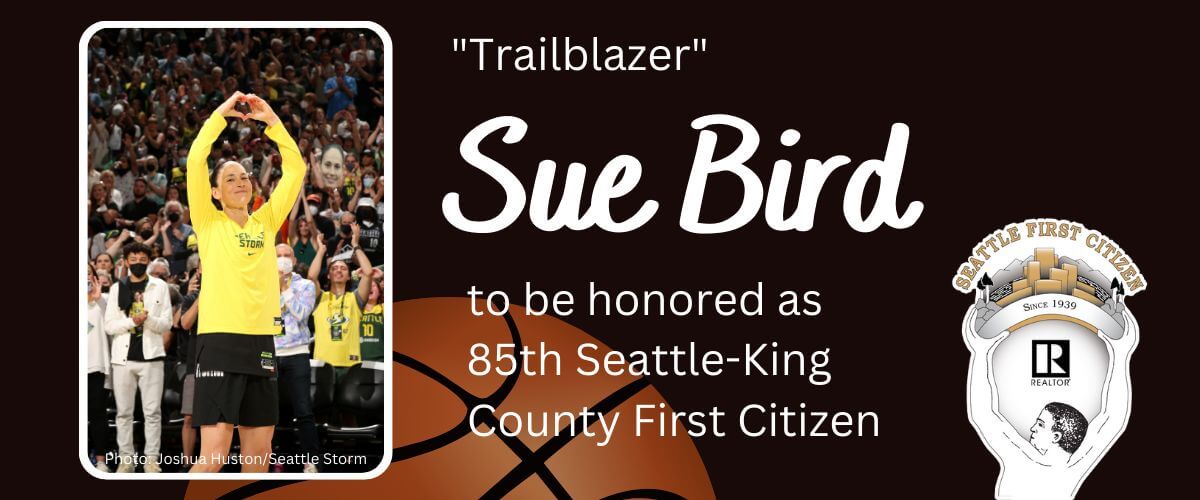 BELLEVUE, Washington (March 1, 2023) – Statistics only tell a small part of the remarkable impact of this year's Seattle-King County First Citizen Award recipient. "She's a trailblazer in the community as well," said one admirer.
For her extraordinary accomplishments as an athlete, a community volunteer, an advocate for LGBTQ equality, and her philanthropy, recently retired professional basketball player Sue Bird will be honored as the 85th First Citizen. The future Hall of Famer, once called "the most accomplished champion this city has ever seen," will be recognized at a civic celebration on Thursday, May 18 at the Sheraton Grand Seattle.
When Bird retired from the Seattle Storm last year at age 41, the fourtime WNBA champion had amassed a staggering array of honors on and off the court. Drafted as the No. 1 pick by the Storm in 2002, the star point guard spent her entire 19-year WNBA career in the Emerald City where she was part of four championships over three decades.
Perhaps less well known, but equally impressive, are the ways this iconic, clutch playmaker gives back.
"We are brimming with pride to honor our local champion, Sue Bird, to this prestigious list of honorees in our city's history," said Sharon O'Mahony, 2023 president of Seattle King County Realtors (SKCR), which has presented the award since 1939. "We expect this announcement to generate a lot of excitement in the community and look forward to celebrating Sue in May."
"Whether serving as a mentor, an ambassador, or an advocate, Sue is known for her dedication and the ways she exemplifies the essence of the First Citizen Award," noted the awards selection committee.
Bird is the first female athlete and only the sixth woman to receive the First Citizen Award. She joins Dorothy (Mrs. A. Scott) Bullitt (1959); Frances P. (Mrs. Henry B.) Owen (1967); Dr. Dixy Lee Ray (1973); Constance W. Rice, PhD (1993); and Phyllis Campbell (2016) as women who have been singled out for the annual salute to community involvement.
When The Sport of Philanthropy featured Bird in late 2018, the blog's writers called her "a trailblazer for women in men's sports" (referring to her joining the front office staff of the NBA's Denver Nuggets) and a "trailblazer in the community."
Bird's hands-on support of various youth programs dates to 2002, the year the Storm drafted her. It includes the Boys & Girls Clubs of King County, the girls' basketball team at Marysville-Pilchuck High School (in the aftermath of a school shooting), and with ZGiRLS.
Bird has called ZGiRLS a favorite nonprofit. She is among its Champions, a contingent of professional and collegiate athletes "who embody what it means to live with zero limitations."
ZGiRLS launched in 2012 as a pilot program in Seattle with 10 girls. It now has programs in 31 states to help equip girls ages 11-16, whether transgender, cisgender or non-binary, with the tools and perspective they need to overcome self-doubt and "become confident, centered, and courageous."
"Sue Bird has been an integral part of the ZGiRLS family since 2014, and her unwavering commitment to our mission of equipping girls with the skills they need to be confident and resilient has had a profound impact on the lives of countless young girls," said Jilyne Jarvis, executive director at ZGiRLS. "Her willingness to share her story and connect with girls on a personal level has been nothing short of inspiring. She embodies everything that ZGiRLS stands for," added Jarvis, co-founder of the Bellevue-based organization.
"Sue Bird is so deserving of this recognition and we are excited to celebrate her," said Trish Coy, chairperson of the Seattle-King County First Citizen Committee. "Like other First Citizens, she has contributed to the well-being and enrichment of our community in numerous ways."
As a 13-time WNBA All-Star and acclaimed athlete, Bird is adept at using her notoriety as a platform for advocacy. Since coming out as a lesbian in 2017, she has been an outspoken advocate for LGBTQ rights. "As athletes, we have a unique position because we have a platform," she acknowledged in an interview with UCONN magazine, adding "People can literally and figuratively look up to us."
Bird is a Pro Ambassador with Athlete Alley, an organization that champions LGPTAI+ equality by promoting inclusion and equality in sports and working to end "rampant homophobia and transphobia in sport." This year's First Citizen, while best known as an elite collegiate, professional, and Olympic basketball player, is also known as a savvy businesswoman. She served as vice president of the WNBPA executive committee during negotiations for a new collective bargaining agreement. She is an investor in NJ/NY Gotham FC of the National Women's Soccer League, a broadcast analyst, and co-founder of TOGETHXR, a multimedia company dedicated to elevating the voices of female athletes.
Bird joins Royal Brougham (1946), Jamie and Karen Moyer (2011) and Lenny Wilkens (2013) as luminaries from the sports world who have been recognized as First Citizens. (Bird received the Moyer Foundation Humanitarian Award in 2015.)
Tickets for the May 18 civic celebration to honor First Citizen Bird, which includes a reception and banquet, are available online at SeattleFirstCitizen.org.
This year's event is presented by Seattle King County Realtors (SKCR) in partnership with John L. Scott Real Estate, Windermere Real Estate and Zillow. Sponsorship information is available by contacting Darla White at the SKCR offices in Bellevue, 425-974-1015.
About the First Citizen Award
The Seattle-King County First Citizen Award salutes "giving back" whether by "time, treasure or talent" and civic engagement that enhances the region's quality of life. Past recipients hail from both the public and private sectors, ranging from humanitarian groups, corporations, charitable, health and educational institutions, to various arts, environmental, and civic organizations. (See complete list of First Citizens).
Since its inception in 1939, the First Citizen Award, believed to be this region's oldest such recognition, continues to celebrate community leadership, volunteerism, and public service. The civic banquet to honor the annual recipients is a not-for-profit celebration of civic engagement presented by Seattle King County Realtors® and partners from the real estate community.