Big Wealth Gains for Homeowners Over 10 Years in Seattle-Tacoma-Bellevue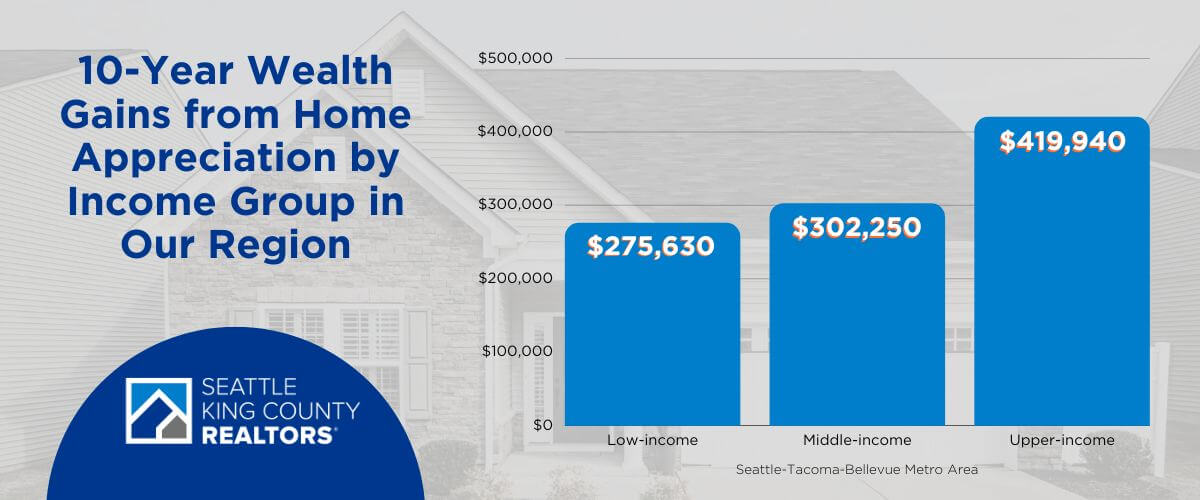 New data from the National Association of Realtors® reveal middle-income homeowners in the Seattle-Tacoma-Bellevue metro area accumulated an average of $302,250 in wealth as their homes appreciated over the last 10 years. The data, which was featured prominently in NAR's new report, Wealth Gains by Income and Racial/Ethnic Group, speaks to the value agents and Realtors® bring to consumers when helping buy and sell homes that build generational wealth.
NAR data also showed substantial variation and inequality in wealth gains across different income and racial and ethnic groups. Low-income homeowners were able to build $275,630 in wealth in the last decade from home price appreciation only, while upper-income households saw an increase of $419,940.
Although Hispanic homeowners experienced the smallest wealth gains among any other racial or ethnic group in our area, these owners were able to accumulate more than $335,410 in wealth in the last decade. Black homeowners gained $355,620 in wealth, White homeowners saw an increase of $372,000, and Asian homeowners experienced $434,180 in wealth gains from their home over the past 10 years.
"This analysis shows how homeownership is a catalyst for building wealth for people from all walks of life," said Lawrence Yun, NAR's chief economist. "A mortgage is often considered a forced savings account that helps homeowners build a net worth about 40 times higher than that of a renter."