Q1 2023 Good Neighbor Award Winner Terry Miller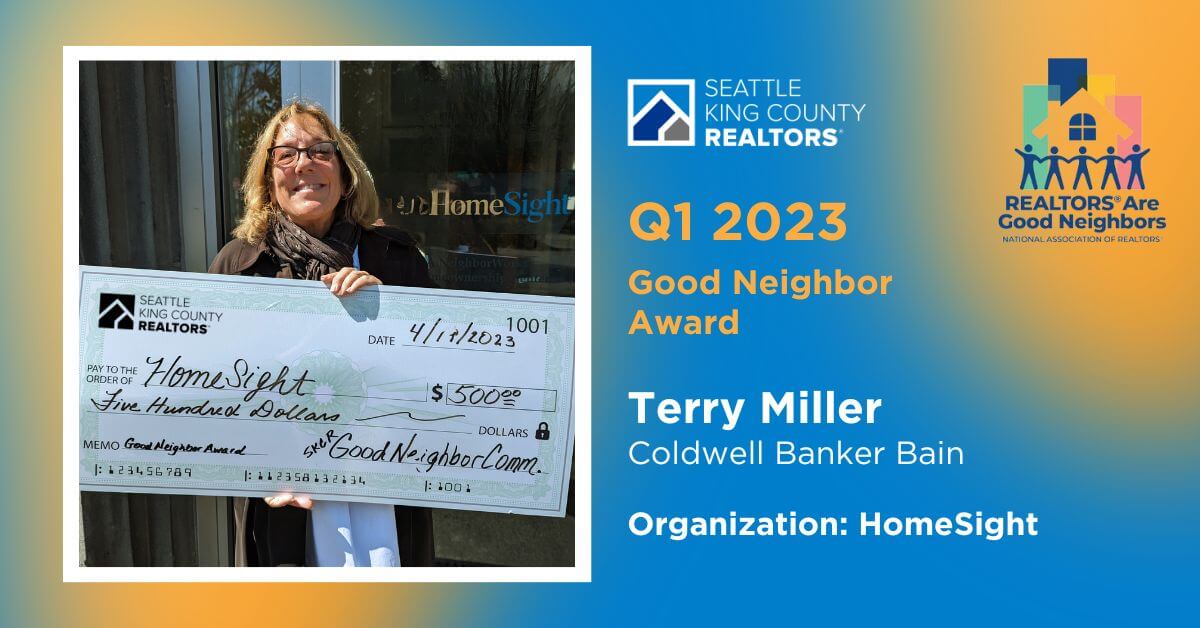 Terry Miller (Coldwell Banker Bain)
Volunteer Organization: HomeSight
For 18 years, Terry Miller has served on the board of directors at HomeSight and is the current Board President. HomeSight is a Seattle nonprofit organization working to preserve and promote economically and culturally diverse communities through affordable homeownership, business development, and community advocacy. Through new housing projects and renovations and mortgage lending for first-time home buyers, HomeSight is building vibrant communities in SE Seattle.
As a board member and volunteer, Terry has advised on several real estate sales and acquisitions, including a notable 2008 sale of a condominium building HomeSight had built. During the housing crash, she was the primary negotiator with the banks holding their loans. Since then, she has helped the organization acquire land for building projects, as well as grants that make new homes affordable for people of color and lower-income households. She also serves on HomeSight's Real Estate Development Committee, Loan Committee, and Governance Committee.
Join us in congratulating our first Good Neighbor of 2023, Terry Miller, for her dedication to an amazing local housing organization!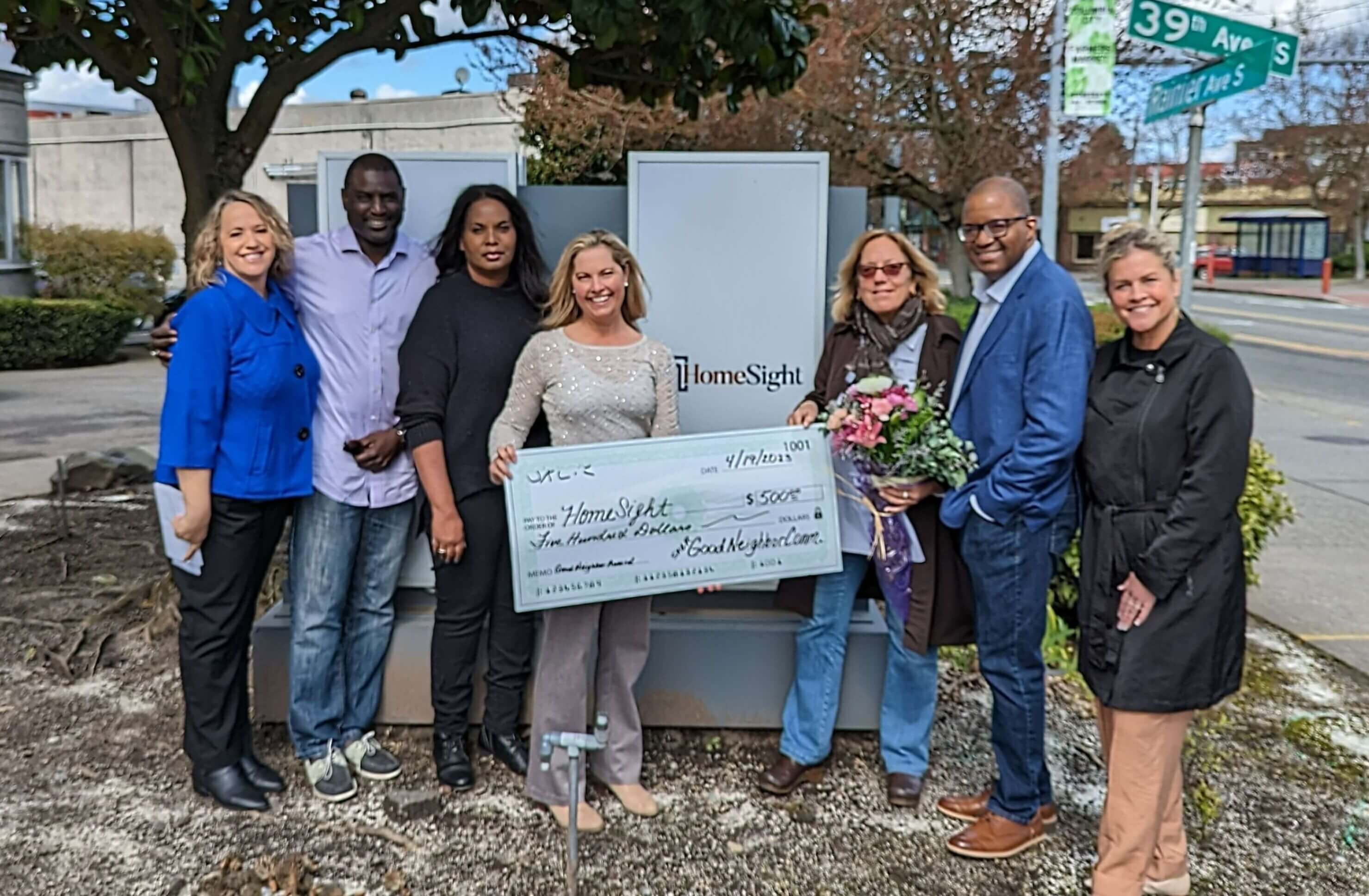 MORE ABOUT HOMESIGHT
HomeSight takes a three-tiered approach to advancing homeownership:
Building affordable housing.
Providing mortgages and purchase assistance.
Advocating for access to affordable housing in the Washington State Legislature
Building Affordable Housing. HomeSight's current building project is called U-Lex at Othello Square, a 68-unit cooperative housing development reserved for households earning 80% of area median income or less. Executive Director Darryl Smith describes the cooperative as "shared-equity" and "limited-equity," two terms that define the project's affordability. "Shared equity means there is a blanket mortgage on the entire building, and residents own a share of that mortgage," he says. "This creates a lower entry point to homeownership than standard housing." Similarly limited-equity housing means that owners buy and sell the units at lower-than-market prices. The amount of equity a household can earn on a property is limited to allow future owners the same opportunity to buy an affordable home.
Mortgages and Purchase Assistance. HomeSight's Homeownership Center offers mortgages that specifically support buyers purchasing a primary residence with competitive rates that are not adjusted based on credit scores. Coupled with purchase assistance that allows households to buy with as little as a 1% downpayment, as well as extensive homebuyer education, HomeSight makes homeownership an achievable dream for many who would otherwise be priced out of the market. "The goal is to keep people in the neighborhood," says Terry Miller. Established residents are key to building vibrant, diverse communities.
Advocating for Access to Affordable Housing. HomeSight joined Washington REALTORS® in supporting the passage of two key housing bills in the current Washington State Legislative Session: HB 1474 and HB 1110. HB 1474 creates the Covenant Homeownership Account and Program to address the history of housing discrimination due to racially restrictive real estate covenants in Washington state. HB 1110 allows "middle housing" development in areas traditionally dedicated to single-family housing.  Both are about to be signed into law by Governor Jay Inslee thanks to REALTOR® and stakeholder advocacy.