Record Attendance at 2023 Battle of the Barristers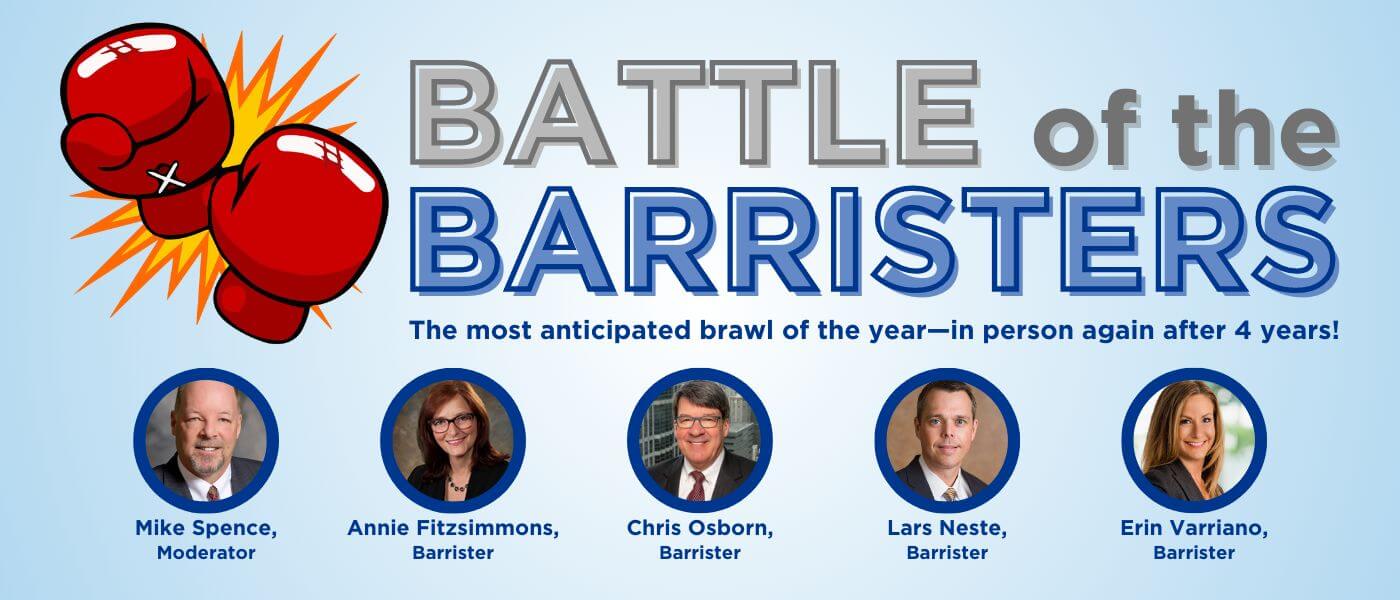 Nearly 600 people attended the first in-person Battle of the Barristers event since 2019, filling Event Hall A at the Meydenbauer Center. "Our members have asked for more opportunities to meet in person again," said President Sharon O'Mahony.  "We accomplished that in a big way today."
The event raised over $31,000 for the Seattle First Citizen Scholarship Foundation, which awards educational scholarships to REALTORS® and their family members who exemplify the ideals of the First Citizen Award. Since 1999, 335 students have received scholarships totaling $611,000. The Battle of the Barristers is the Foundation's primary annual fundraiser.
Vice President of Business Practices Cheyenne Gillooly announced at the event that the top 2024 scholarship award will be given in honor of Dahni Malgarini-Logar, beloved REALTOR® leader and 2023 President-Elect of the Board of Directors, who passed away in February.
This annual educational event features a panel of five real estate lawyers discussing legal scenarios brokers should avoid. Attendees receive 3 clock hours in real estate legal issues. This year, moderator Mike Spence and barristers Annie Fitzsimmons, Lars Neste, Chris Osborn, and Erin Varriano provided insight into issues such as upcoming changes to real estate agency laws, post-closing possession, and seller disclosure forms.
The debate particularly highlighted two new Washington State laws backed by Washington REALTORS® in 2023:
SB 5191/HB 1284: Beginning on January 1, 2024, brokers will be required to enter into a written services agreement with their buyers, much like the required written services agreement with sellers. This practice will create more transparency around compensation and the scope of services for buyers.
SHB 1070: Leaseback agreements meeting certain requirements are now exempt from landlord-tenant laws, which can help reduce liability in complicated transactions. Even so, the Barristers' consensus was that brokers should avoid this situation if possible.
A new feature of this year's Battle of the Barristers was the inclusion of a "Lightning Round," a series of short scenarios, requiring shorter answers. The audience benefitted from hearing more legal opinions than ever before from top local real estate attorneys.
Applications for 2024 First Citizen Scholarships will be open in January 2024. Visit www.nwrealtor.com/scholarships for more information about applying.