REALTORS® Endorse Seattle Housing Levy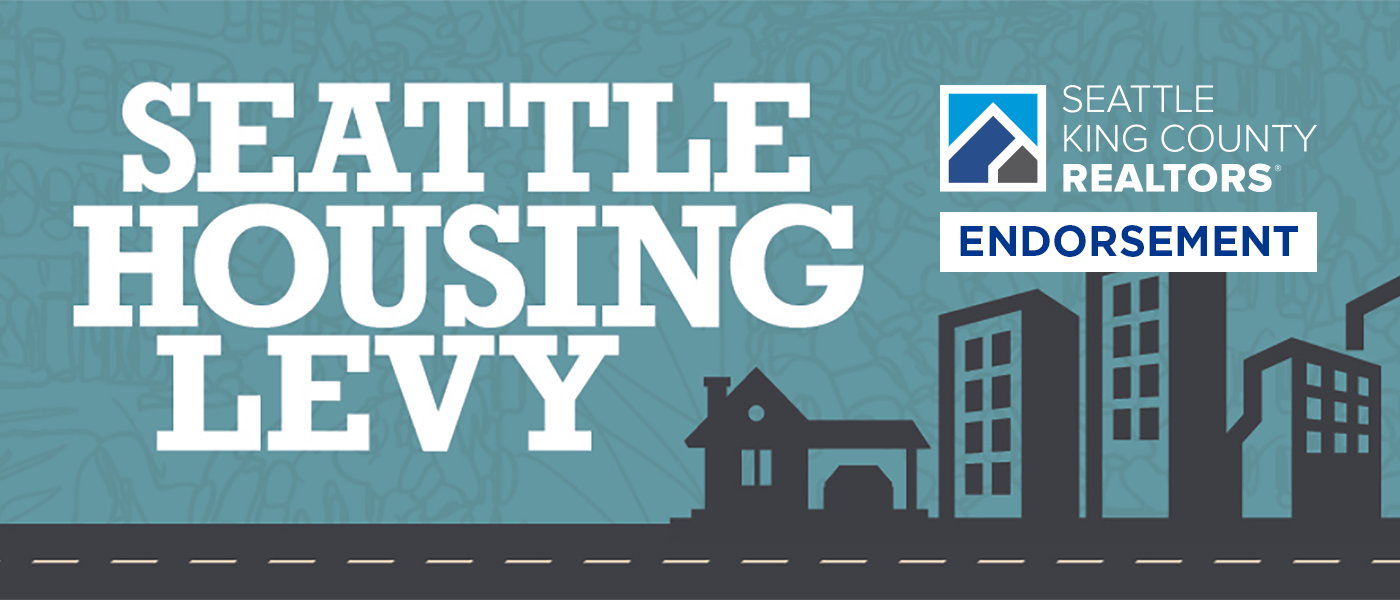 BELLEVUE, Washington (November 1, 2023) – Seattle King County REALTORS® joins nearly 100 other organizations in endorsing the Seattle Housing Levy (Proposition No. 1). The organization's board of directors announced its decision following a recommendation of its Governmental and Public Affairs Committee.
The $970 million property tax measure will appear on the November 7 General Election ballot. If approved by voters, it would renew the expiring 2016 Housing Levy (a $290 million measure) for another seven-year cycle, from 2024–2030.
"Our state has a dire need for diverse housing options. The shortage of housing is especially acute in the central Puget Sound region, including in Seattle and around King County," noted Sharon O'Mahony, SKCR's 2023 president. "The Seattle Housing Levy, focused on low-income households, will help increase access to affordable housing. It is not a cure-all but it is one of multiple solutions that are needed to help solve the housing crisis affecting all income brackets."
O'Mahony noted the Realtors' endorsement followed vigorous discussion of the merits of the measure when members of its Governmental and Public Affairs Committee heard a presentation by Patience Malaba, executive director of the Housing Development Consortium. HDC is a broad-based, 200-member association of affordable and low-income housing developers, providers, and advocates.
Since 1981, Seattle voters have approved one bond and five levies to support the production and preservation of affordable housing. According to campaign materials, each levy has exceeded its goals and promised the homes it supports are affordable for at least 50 years, serving multiple generations of Seattle residents.
Malaba, who is also a leader of the Yes for Homes campaign, has called the Housing Levy an "unparalleled success story." She explained the funds would be allocated to five primary "buckets" for building and maintaining thousands of units of permanent, affordable homes for vulnerable and low-income residents. The remaining funds provide for stabilization services to prevent evictions and homelessness.
The upcoming levy allocates about $707 million for construction of around 2,900 new rental homes and renovations to about 600 existing homes. At least 60% would be earmarked for housing that is affordable to people making less than 30% of area median income. About $122 million is for operating, maintenance and services for levy-funded buildings, with the remaining funds designated for developing new permanent affordable for-sale homes, short-term acquisition loans, and program administration.
The city estimates a renewed citywide levy would roughly triple the existing levy tax rate, from about $0.14 per $1,000 in assessed property value to $0.45 per $1,000. The owner of a median-value home in Seattle would pay about $32 per month ($383 per year).
The City of Seattle developed the 2023 Housing Level following 16 months of stakeholder and public meetings. There is no organized opposition to the levy.