Rothstein Book Offers Practical Strategies for Promoting Fair Housing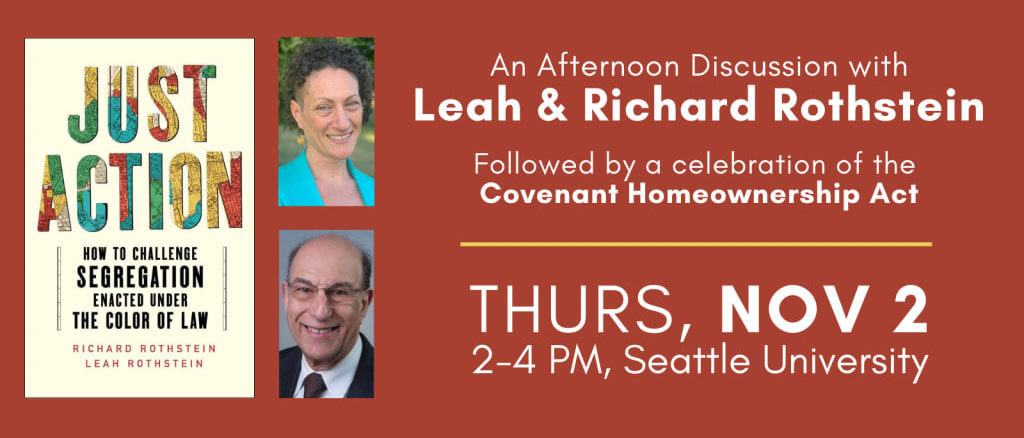 Housing is a front-and-center issue in King County, where there is not enough housing for everyone who wants to live here. Voter polls repeatedly cite homelessness and housing issues as a main concern. Seattle King County REALTORS® is at the forefront of finding solutions to these problems and partners with local organizations to address the underlying causes.
In a program presented by the Housing Development Consortium (HDC) and sponsored by Seattle King County REALTORS®, the father-daughter team of Richard and Leah Rothstein spoke about their recent book Just Action: How to Challenge Segregation Enacted Under the Color of Law. The book is a follow-up to Richard's 2017 book The Color of Law: The Forgotten History of How Our Government Segregated America. Other sponsors of the program on November 2 included Washington REALTORS® (WR), Tacoma Pierce County Association of REALTORS® (TPCAR), and Western Washington Realtists (NAREB).
The Color of Law outlined the systematic, court-backed housing policies implemented at the local, state, and federal levels of government to maintain the separation of black and white American citizens in metro areas across the country. Just Action offers practical strategies for local coalitions to address the damage residential segregation has done.
"I think this event is a great educational opportunity for us to start having conversations as REALTORS® to find out what more we can do to address housing issues," said Board Director-at-Large Samantha Enos who was instrumental in getting SKCR involved with this event. "Historically, real estate agents and REALTORS® have had something to do with housing segregation, and we have some responsibility for addressing the effects of past policies."
Richard Rothstein began by giving a short summary of housing policies after World War II that systematically moved white Americans into newly built suburbs and relegated black Americans to urban "red-lined" neighborhoods. One of the primary outcomes of these segregation policies is the stark wealth gap between black and white Americans today.
"Today the average income of a black American is 60% of the average income of a white American," Richard Rothstein told the audience. "But the average wealth of black Americans today is less than 5% of the average wealth of white Americans. The difference is entirely attributable to federal housing policy."
Leah Rothstein continued the presentation by outlining strategies that can begin to unravel segregation and its effects at the local level. The strategies fall into two categories: place-based strategies and mobility strategies. Place-based strategies focus on resourcing lower-income neighborhoods—funding schools, offering services, promoting businesses, etc.—to improve the quality of life. Mobility strategies focus on enabling lower-income residents to move into higher-income neighborhoods and include re-zoning, adding density, and addressing appraisal bias.
Leah highlighted just a few from a wide range of specific strategies from the book and encouraged attendees to create local coalitions to start with one and "chip away at the pieces." The introduction of Just Action says, "Waiting for the president and Congress to act is an excuse to maintain the status quo…. [E]fforts to challenge segregation will have to begin locally, with residents pressing for both public and private action in their own communities" (6, 7).
REALTORS® work to create homeownership opportunities for all people. We promote homeownership as a means of wealth creation for people of all backgrounds. The ever-appreciating real estate market in Washington State makes it increasingly difficult to enter homeownership without wealth already in hand. In 2019, about 31% of Black households in Washington owned homes, compared with 68% of white households. According to a 2019 report from Washington State Homeownership Disparities Work Group and the Department of Commerce, the comparative lack of wealth is a big reason for this homeownership gap.
In January 2023, Seattle King County REALTORS® joined the Black Home Initiative, a network of nonprofits, private companies, philanthropy, governments, and associations making up our region's ecosystem focused on increasing Black homeownership. BHI's goal is to create the opportunity for 1,500 Black households to own a home in the next 5 years. Seattle King County REALTORS® supports this goal by:
Advocating for policies that will create more housing at all levels and endorsing pro-housing candidates for local and state elected offices. (Read about some of our legislative successes in 2023.)
Requiring and offering training in Fair Housing practices that can cut down on discrimination in the real estate transaction process.
Building up a network of affiliates and partner organizations that support the same goals.
Samantha Enos has some big goals for Seattle King County REALTORS® in 2024. As a member of the Diversity, Equity & Inclusion (DEI) Committee, she says she would like to see "more conversations and awareness about the Black Home Initiative. The Board voted to support it, but our members don't know what it is. I would like the DEI Committee to start tracking how we're doing toward the goal of 1,500 Black homeowners in the next 5 years, following up on bills that just passed, and educating SKCR members on ways to get involved."